Posted May 01, 2019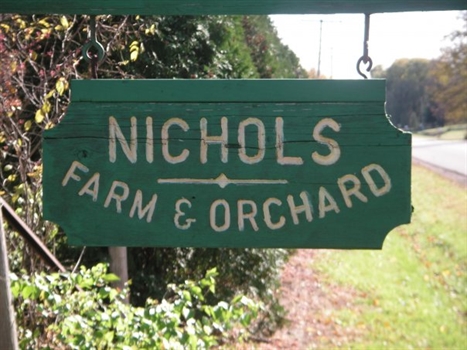 A love for farmers markets is what got Nichols Farm and Orchard started in the 1970s and what fuels their business today. 20 years ago, Green City Market started in an alley next to the Chicago Theatre with 9 vendors. One of those vendors was Nichols Farm and Orchard, and they've been with Green City Market ever since.
Located in Marengo, IL, Nichols Farm was started by Lloyd Nichols and his wife Doreen in 1978 as a backyard garden and has since grown into what is now a 300 acre sustainable farm. The Nichols family now grows more than 1,000 fruits and vegetables with over 200 varieties of apples alone!
Today, the farm is run by Lloyd and Doreen's sons. Nick Nichols and his brothers live and work on the farm, and on most market days, you'll find them helping their customers pick out produce. Many of those folks are some of Chicago's top chefs. "As Chicago has grown into one of the best culinary scenes in the world, it has also helped us grow. Todays chefs have come to realize that some of the best produce is coming just miles away from their restaurant. With hundreds of those chefs wanting the best food to put on their plates GCM has been a great place for us to make connections and relationships," said Nick. From Frontera Grill to, The Girl and the Goat,Publican and Big Jones, dozens of Chicago restaurants are serving up Nichols Farm produce.
Nick tells us the winter markets have been a great way for them to expand their business and employ more full-time people. Nick says customers are always looking for the best tasting, freshest, and spectacular produce that they can grow. "It is a lot of hard work and sometimes even with all the hard work things don't turn out. You can't control the weather, and unfortunately months of hard work can turn into a failure overnight."
The best advice Nick has for market shoppers? Try it. "It may not always be the prettiest or largest, but it might just be one of the best things you have ever tasted in your life." We couldn't agree more.
We asked Nick what is favorite dish to make is and he joked one that someone makes for him. You see, he's so busy working to make sure the produce he brings to market is at its very best, he just doesn't have the time. "During much of the year I don't even have time to prepare a meal. So it tends to be things that you can eat raw or something with almost no prep time." No worries Nick, your produce doesn't need anything to make it tasty!
You can visit Nichols Farm & Orchard at Green City Market's Lincoln Park location on Wednesdays and Saturdays starting May 4, and at Green City Market's West Loop location on Saturdays starting June 1.