Posted Apr 25, 2019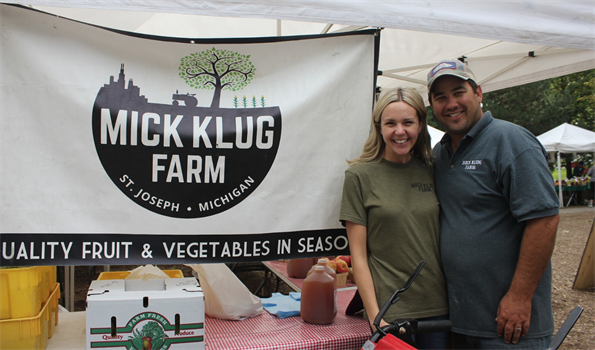 Each year we count down the days to when Mick Klug Farm strawberries will be at market. And when they are, we stock up! There is nothing quite like popping those beautiful red berries in your mouth as you stroll through the market. Can't you just taste them?
The Mick Klug Farm is truly a family operation. Mick grew up on a 40 acre farm his parents established in the 1930's, in 1974 he took over operations and grew it to the 120 acres it is today. Mick and his family have been growing strawberries, asparagus, raspberries, peas, green beans, sweet corn and much more on their family farm for generations. Over the last several years, Mick has worked closely with his daughter, Abby Schilling, and son-in-law, Mark, successfully sharing management and ownership responsibilities to ensure the land, operations and customer relationships stay within the family. In 2018, Mark's brother, Ben Schilling, and sister-in-law, Bae, joined the team. Today, Mick Klug Farm is owned by Abby, Mark, Ben & Bae. Mick still works on the farm everyday but can enjoy the work without the worry of ownership. Abby tells us she is still in awe of how her dad managed to juggle all the responsibilities of the farm, markets and wholesale and still be a very supportive father, husband and friend.
We asked Abby to take a few minutes to tell us about life on Mick Klug Farm.
Tell us about a typical day on the farm at the peak of season. "Typical" very much depends on what day of the week it is and who you are asking. On market days, Bae or I get up at 2:00 am to finish loading the trucks and packing any late orders. Then we drive into Chicago (about a 2 hour trip) and work at the market. We arrive back to the farm around 4:00 pm to unload the trucks. Since I live on the farm, I'll check in with the barn and field managers. Then I usually have invoicing, some packing and emails to complete. Around 6:00 pm, I let the babysitter go home and start dinner and the bedtime routine for the family. After the kids are in bed, I usually head back out to the barn to pack any late wholesale orders or finish invoicing and emails. On non-market days, I work between the fields, barn and office. The field employees (approximately 16 people), start their day at 6:00 or 7:00am in the barn getting their harvest tools and supplies ready, and then head out to the field to either harvest, prune or weed. There are many other various farm maintenance tasks that come up as well. Near the end of the day, the field crew comes into the barn to pack wholesale orders, and sort and pack produce for market. Their day usually ends with clean-up work and prep work for the next day. The only thing that stays the same on a farm is everything changes!
Tell us about a typical day on the farm during the winter. Winter is when all of the pruning and paperwork happen! The office work includes accounts receivables, taxes, mandatory food safety and water use reporting, as well as planning for and confirming labor for the upcoming season. We also begin to prepare for the following season by deciding what trees and plants to order to plant in the spring, and creating and updating field and orchard maps. The field crew (which consists of 3 people in the winter) prunes trees, covers the blackberry plants with row cover, and attend to bramble plant maintenance. If we still have apples in stock, we are busy selling, sorting, packing and delivering apples.
How many acres do you plant? What is your most popular fruit? On an annual basis, we plant around 12 acres of various annual crops including peas, green beans, sweet corn, everbearing strawberries, and tomatoes. We then plant new orchards of various varieties of tree fruit, and new fields of strawberries and asparagus, as needed. In total, we farm approximately 120 acres. Peaches and strawberries tie for most popular!
Mick Klug always has so much variety and so many choices, how do you plan what to grow? It is tough to know what will be popular three to five years from now (how long it takes for a tree to start bearing fruit), but we are always reading farm news publications and trying to stay on top of trends. We also seek insight from our chef customers.
Does your assortment change season to season? When it comes to types of fruits and vegetables, no, it doesn't change too much. We know what we are good at and stick to that. We do change and the varieties of those fruits and vegetables. We usually experiment with small plots of anything new first before "going big." For instance, we planted small amounts of many varieties of everbearing strawberries for a few years before finding two we really liked, and then planted a significant amount of those two varieties to start selling consistently at market. In recent years, we have added some new "products" like hot apple cider, and bags of frozen fruit.
How does it make you feel to know you are helping nourish Chicago? Great! When you own your own farm business, there isn't much philanthropic work involved. However, Green City Market gives us the opportunity to do that kind of work through the market's support of the double match Link program, Club Sprouts, Edible Gardens and its presence in local schools.
What was Green City Market like 20 years ago? Can you describe it to us? It was very different than it is today. The biggest difference was that it was in a tiny alley behind the Chicago theatre! A far cry from the beautiful park we are now in. There were not nearly as many vendors, or customers. However, there were definitely familiar faces that we still see at the market today, which is awesome and a testament to what a great organization GCM is.
What has changed over the years in the way you farm? We are continuing to use more sustainable and organic farming practices. We are also (trying!) to stay more organized and efficient. Food safety and labor regulations have become more challenging and force us to place more importance on record keeping.
How much do farmers markets play in your daily business? Farmers markets generate the majority of our income, so therefore take up the majority of our time and effort.
How big of a role do restaurants play in your business? Sales to restaurants are right behind farmers markets, but not by much.
Describe what chefs are looking for. We usually end up partnering with chefs that are committed to buying locally, and understand the importance of a local food system. In recent years, chefs look for things that they can't get from any place else – fruit tree blossoms, green strawberries, under-or-over-ripe fruit.
Describe what your customers are looking for? That is a difficult question to answer, because we have such a diverse customer base. What one customer can't live without, another customer runs away from. However, I think that a lot of our customers seek ripe, ready-to-eat fruits and vegetables, as well as some type of relationship with us and/or our employees. That's what makes farmers markets so special-the opportunity for consumers to talk to the people who are growing the food they eat!
What is next for Mick Klug? We feel the farm is in a good place, but has potential to grow. We are a family of hard workers who like to use our creativity to try new things and progress with an ever-changing agriculture sector.
What is your favorite dish to make with your products. The most simple one of all: roasted or grilled purple asparagus. All it needs it a little butter, salt and pepper!
What should market goers understand about picking produce at market? Pinching a peach isn't the proper way to choose the best one. :) All jokes aside, I think it is important to remind people to take the opportunity to talk to the vendors who are growing their food. They really do have the inside scoop about what is tasting best that particular day, how to prepare it, etc.