Posted Jun 18, 2019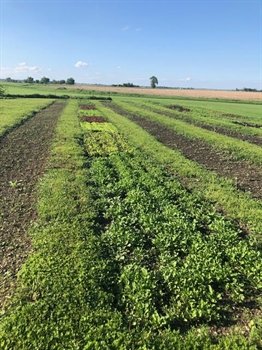 More than a century ago, driving cattle across the country from ranches in Texas, Kansas and Oklahoma to the Chicago Stockyards was the way of life for many cowboys, wranglers and drovers. One of our newest farms at the Wednesday market is a part of that history. Drover's Trail Natural Farms has been a family farm for over 100 years.
"It was the main route to transport cattle from Ottawa to the Chicago stockyard. Drover's means cattle driver, and these cattle drivers often stopped at our family farm to water their horses and cattle; a hitching stone can still be seen on the farm, " said Koren Finnestad, owner of the Drover's Trail.
Since David and Koren Finnestad first married 32 years ago they have been on the road to growing beautiful produce. The couple started a garden for their own family and through the years it expanded and Koren began canning and freezing much of the bounty for the winter months. With the love of gardening and providing healthy delicious meals without chemicals their decision to start selling their produce commercially nine years ago was an easy decision.
The Finnestads live on their 5-acre farm in Minooka and their oldest son lives on a 160-acre farms across the field. The Finnestads understand there is a great need for small family farms to produce locally grown food that is free of pesticides, herbicides and fungicides and raising animals humanely and without hormones and antibiotics. "We love offering products that will enhance and benefit the health of all our customers," said Koren.
In their own words
Drover's Trail has always exercised all-natural growing methods. We decided to become certified naturally grown last year so our customers know that we are serious about our growing practices. We encourage everyone to come visit the farm, walk around, taste directly from the garden and experience the joy of growing your own food.
Koren is passionate about fermenting foods and offering good clean meals. Nine years ago, she contracted clostridium difficile (C-Diff), a nasty bacteria that many die from. She started on a regimen of fermented foods only and was healed in just three short days. This was the beginning of a journey of learning about these fascinating foods and their history and benefits. She now teaches informative and how-to classes to help others learn the benefits of fermented foods and why we should be eating them every day.
Drover's Trail grows many varieties of vegetables such as; beans, peas, cucumbers, lettuce, spinach, summer squash, winter squash, heirloom tomato, peppers, onions, carrots, cabbage, kale, Swiss chard, radish, collard greens, turnips, beets, Chinese greens, herbs and more. We love growing as much diversity as possible and love learning new things. This year, we hope to have jicama in the Fall.
Farming and growing food is our way of life and we realize that not everyone has the ability to do so. We believe that it is important for people to know where their food comes from, who's growing it and how it is grown. There should not be so many autoimmune diseases, cancers, childhood illnesses, digestive disorders, mental conditions, etc. We strongly believe that farming practices are critical to the health and well being of everyone. Our family is honored to have an opportunity to provide living food!