Posted Dec 14, 2020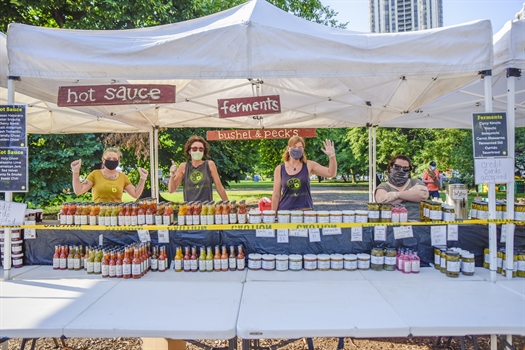 In a year where supply chains were disrupted, common household items were wiped from shelves, and grocery store lines spanned city blocks, it became more important than ever before to purchase — and eat — what's available locally. For weeks, you couldn't get flour or yeast at the grocery store, but you could get it from local bakeries like pHlour. Staples like eggs, bread, and meat were tricky to keep on supermarket shelves, but they were abundant over at local farms.
Ironically, small, local businesses have been some of the hardest hit by the pandemic. The vast majority of Green City Market's 57 local, sustainable producers depend on farmers markets and restaurant sales, and when the pandemic hit, they were left hamstrung as farmers markets and restaurants swiftly closed.
"Everything has changed," remarks Jackie Gennett of Bushel & Peck's in Beloit, Wisconsin. Jackie has been selling with Green City Market for over ten years. This year, she explains, "We've had to change the way that we sell things, the way we make things, the way we fulfill our customers' needs."
In response to Illinois' shelter-in-place order, the Green City Market team rapidly developed and launched GCM Delivered, an innovative online ordering and home delivery platform, designed to keep our farmers connected to shoppers and to provide a safe option for Chicagoans to access the food they need.
"The whole way in which we're connecting with our customers has changed dramatically as a result of the pandemic," notes Jackie. "Green City Market has been pivotal in that change by offering up the ability to sell through their aggregation program and being able to deliver to customers' homes."
The pandemic and nationwide lockdowns put local farm businesses in peril — but thanks to supporters like you, they may just be coming out of this year more resilient than ever before. "There's not just one way to sell things now," shares Jackie, "there's a combination of different ways."
"People want to know where their food is coming from — they want more of a sense of security as to where they're going to get their next meal — and that has brought consumers closer to local farms. Now more than ever people should be looking at where their food comes from and how they're going to get access to it in the near and long-term future," Jackie comments. "Green City Market is really a critical component of the urban food system in Chicago."
With no indoor farmers market for the first time in over a decade and no end to the pandemic in sight, expanding GCM Delivered will be imperative to making sure Chicagoans stay connected to local farms over the winter months. With a tax-deductible donation, you can help invest in essential resources so that Green City Market can provide even more people a safe way to access local, sustainably-grown food all winter long.