Posted May 04, 2021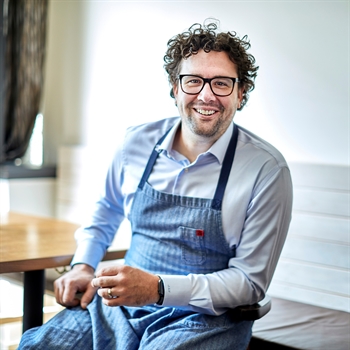 Green City Market is thrilled to welcome several new vendors to our markets this season, including Daisies, a vegetable-driven and pasta-focused restaurant located in Logan Square. Chef and owner, Joe Frillman, takes a local, seasonal, and sustainable approach to his menu — he even convinced his brother, Tim Frillman, to take up farming and now sources the majority of his ingredients from Frillman Farms and other local farms.
You can find Daisies at GCM Lincoln Park this season, every Wednesday and Saturday now through October, offering up fresh, handmade pastas and seasonal sauces, like ramp pesto and mushroom ragu.
---
GCM: When did you start Daisies? What was your inspiration for opening the business?
Joe: We opened in 2017 and are coming up on our fourth year. I have been involved in the food industry since I was ten years old. As far as I can remember, I always wanted my own restaurant and after my brother Tim bought the farm, I knew I wanted to focus the food on utilizing as much produce from him as possible.
GCM: What attracted you to Green City Market? What do you hope to get out of your experience at Green City Market this season?
Joe: My first intro to the food industry was at the Deerfield farmers market where I helped run a stand selling produce. I loved learning about the produce and seasonality of food.
When Covid hit, we shut down and reopened as a restaurant and farmstand market where we sell local farmers' (including my brother's) produce and products. We sell our pastas and sauces there in the micro-market in the back room, and after seeing the popularity, it made sense to expand to the GCM. This allows us to be more visible and bring our product and branding to another neighborhood to reach some new customers.
On the personal side, it's a full circle move that puts me back in a farmers market 25+ years later and allows me to continue working next to my brother.
GCM: What role does sustainability and local food play in your business?
Joe: It's becoming ever more clear that the environmental impacts of the food system are changing our world. The more we learned about the impacts, the more it made us want to source products that help reduce our impact.
I started my restaurant career working for a chef that really valued the relationship between farm and restaurant and the Green City Market was always a major source for our menu. I was able to develop strong local relationships that shaped the way I cook. We wanted the best and freshest product we could find, so through many different conversations, I somehow convinced my brother Tim to open a farm to provide us that product. It's been almost twelve years now, and we feel like we are just getting started.
GCM: What do you want Chicagoans to know about Daisies?
Joe: We started as a Midwest Italian-inspired restaurant that focuses on sourcing as much as we can from a family-run farm and our friends from our region. We are not just a restaurant anymore and have established an outpost in Logan Square to sell our family and friends' produce and products from our micro-market, as well as our house-made fresh pastas and sauces. We are working to expand this in the future and the Green City Market is our first step.