Posted Sep 25, 2018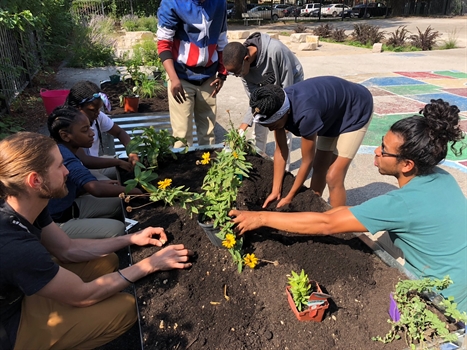 Last week, we had the pleasure of planting a garden at Manierre Elementary. Students were given a number of plant options to choose from. We then took a vote and planted the top six plants, as chosen by the 7th grade class. This exercise proved to empower our students, encouraging them to take ownership of the space before their hands even touched soil. Once we got outside, however, that ownership soared to new levels!
Unprompted, almost EVERY student expressed concern over how they were to keep their garden from the prying hands of other students. Many suggested building a fence, but after informing them that this was an impossibility, they pivoted to choosing to make a sign as a class, as well as to assign themselves "recess shifts" to monitor the garden during their free time. Additionally, every student was eager to get their hands dirty, touch bugs, and water the garden.
I cannot express how important these moments were for this class: they all demonstrated leadership, respect and enthusiasm for a safe space that they created. I am confident that these attributes will translate into the kitchen and I can't wait to get going for the 2018-2019 school year!
- Lisa Kalabokis, Chef Educator