Posted Jun 29, 2020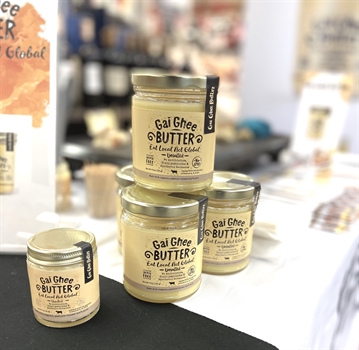 As the first year-round sustainable farmers market in Chicago, Green City Market is proud to create a robust marketplace for local growers, producers, and vendors. We're happy to welcome two new GCM Lincoln Park vendors as we enter our twenty-first season — Gai Ghee Butter and Kikwetu Kenya Coffee Company!
Ghee is clarified butter — butter that has been simmered and strained to remove water. It's lactose-free for the dairy-sensitive, shelf-stable, and high in Omega-3's. In addition to a unique nutty flavor, it's also prized for its anti-inflammatory and pro-digestive properties, making this a pantry staple we couldn't be more excited to pick up at GCM Lincoln Park.
We're thrilled to welcome Murassa Qazi, owner of Gai Ghee Butter, to Green City Market Lincoln Park! Read on to learn more about Murassa's story, follow Gai Ghee Butter on Instagram, and visit them at GCM Lincoln Park to get your ghee game on.
When did you create Gai Ghee Butter? What started your journey to creating your business?
I created Gai Ghee Butter in 2018; Gai means "cow" in Urdu language (which is my native language) and since ghee originates from cow's milk, therefore I thought the name is simple, yet meaningful.
Ghee is a pantry staple in South Asian cultures, and I grew up eating ghee that was homemade by my mother. As an adult, I craved for that homemade wholesome flavorful ghee, but the ghees that I found in the market did not taste like the ghee I grew up eating. Therefore I started making ghee for myself and shared it with friends and family as well, who really liked it, and I thought it would be great to share it with more people who are health-conscious and like to add healthy fats in their diet.
What drew you to become a vendor at Green City Market?
Green City Market is paving a path for local food economy and connects local food vendors who make or grow sustainable food to consumers who are health-conscious and choose to eat organic food — therefore it seems like a great match with our brand and its slogan which is "eat local, act global."
What makes your ghee unique? What do you hope people learn about ghee or the importance of buying this product locally?
At Gai Ghee Butter we churn our own organic butter to make ghee from it, which makes the ghee more flavorful, fresh, and unique, compared with other brands in the market. If you buy ghee from the [grocery store], you will notice that those ghees are made with store bought butter, therefore their quality is compromised.
Ghee is not only a great substitute for cooking oil and butter due to its high smoke point and texture, but it has numerous health benefits as well. For instance, when ghee is added to different foods it brings the glycemic index of those foods down, which helps in regulating blood sugar levels.
Unlike butter, ghee does not have milk solids and water content in it, therefore it is easily digestible — that's the reason that it is added to toddlers' diets — but it can be consumed for the same reason by adults as well! Another benefit of eating ghee is that it is a great source of energy; there are many medium-chain fatty acids in it, which can be absorbed directly in the liver and burned in the form of energy. Ghee also has a long shelf life, so it can be kept out on the counter in a cool area for more than six months and it will not go bad.
And lastly buying ghee locally means that you are supporting local farms and getting fresh food which makes for a healthy lifestyle. We source the ingredient for Gai Ghee Butter from Organic Valley, that comes from family farms of their cooperatives.
Last (but definitely not least), what's your favorite way to eat Gai Ghee Butter?
My favorite way of eating Gai Ghee Butter is to add a dollop of room temperature ghee on a warm whole wheat toast — ghee melts on it right away and is delicious!