Posted Dec 16, 2021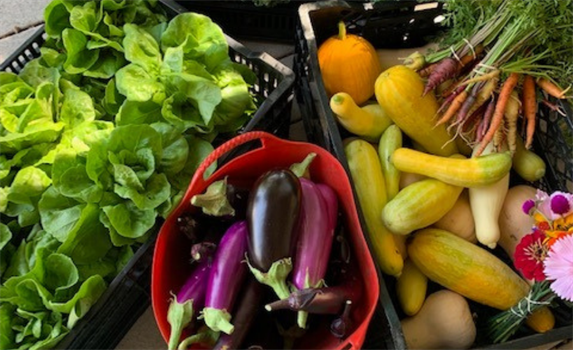 Community fridges proliferated during Covid — in response to mass layoffs and disruptions in food systems, neighbors took action. Surprisingly, a USDA report found that the number of households facing food insecurity stayed relatively stable between 2019 and 2020. According to The Counter, the "expansion of nutritional and financial aid, together with increased food assistance via charitable and mutual aid organizations, was vital in preventing the spread of hunger."
Community leaders like Risita Haynes from The Love Fridge were integral in feeding Chicagoans in need these last two years. Green City Market is proud to partner with The Love Fridge, a mutual aid network of 25+ community fridges in Chicago. Thanks to the support of our community, we grew over 2,000 pounds of food for the Love Fridge in 2021.
We spoke with Risita about how and why community fridges have become such an important part of addressing hunger in Chicago.
As a 501c3 nonprofit, we depend on your support to plant our donation garden each year. Please, consider giving a tax-deductible donation today to help your neighbors in need access local, nutritious, sustainably-grown food.
---
GCM: What makes the Love Fridge system unique?
One of the more unique things about the Love Fridge is that even at the scale that we're operating at (~26 fridges currently), we're still an entirely volunteer run mutual aid group. We've been able to keep this many fridges running for over a year by building strong community bonds with other mutual aid groups and individual volunteers around the city and asking for help when we're struggling to get donation pickups filled.
GCM: Is there a reason you think this method is gaining popularity?
I think it's caught on so quickly because community fridges provide a direct link from one neighbor to another, but in a way that honors autonomy and anonymity for folks that might be struggling. They've also provided a more Covid-safe way to engage and help neighbors than more traditional volunteer options that usually require people to be inside. Love Fridges are also available 24/7.
GCM: In the last year of operation, have you had issues keeping fridges stocked? Or finding the right balance of foods to stock fridges with?
We've definitely experienced a lot of up and down emotions regarding keeping fridges stocked. These aren't your fridges at home, so the idea that they will be fully stocked at all times is unrealistic. Food insecurity is at an all time high in this country and we're often met at the fridges by many people who are feeding large households or taking food to neighbors who can't get out to the fridge. There is a psychological process you go through when you deliver a ton of food to a fridge and it's all gone before you've driven away. But that's just the reality of the situation and we're grateful that food isn't being wasted, especially fresh produce.
We try to be really conscientious when stocking the fridges. We take into consideration culturally appropriate foods for that neighborhood and we really try to respond to feedback and requests from community members if those items are available.
Fresh produce and fruit is always in high demand, as are eggs, butter, milk, the staples in every household.
GCM: Where do you hope the Love Fridge goes from here?
We hope to add a few more fridges in high need areas like the west side. We'd love to have at least one fridge in Austin or West Garfield Park. And we're continuing to build out our Full Circle Initiative, where we pay chefs every month to cook 120 meals for the fridge. Ideally, we'd like to see the kind of community engagement for volunteerism and mutual aid that we saw at the peak of the pandemic last year.
While things have returned to a new normal for many folks, pre-pandemic normal wasn't good for a lot of our neighbors and things are even worse now. We hope people continue to care about their neighbors and invest time in their communities in this really easy and tangible way. Everyone needs food!
---
If you're passionate about expanding food security in Chicago, consider giving a tax-deductible donation today to help stock community fridges across the city with local, healthy, sustainably-grown food.