Posted Feb 08, 2019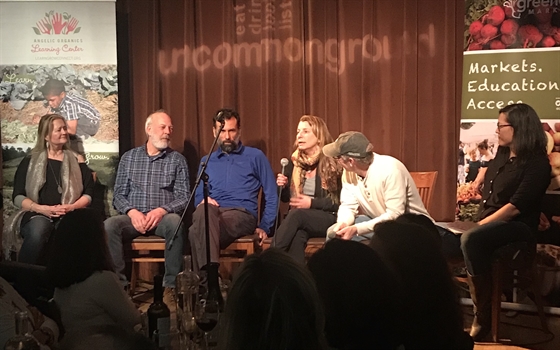 On Monday evening, we kicked off the 2019 Come to the Table Dinner Series at Uncommon Ground. The theme of our first dinner was "Adapt," and focused on how small farms and food businesses are adjusting to the proliferation of "local" and organic food and the rise of ultra-convenient food options like meal and grocery delivery. The panel featured perspectives from Helen Cameron of Uncommon Ground, Irv Cernauskas of Irv & Shelly's Fresh Picks, Chris Covelli of Tomato Mountain, Jackie Gennett of Bushel & Peck's, and Cliff McConville of All Grass Farms.

For many of the panelists, the local food movement peaked in 2014, a record sales year for many family farms, CSAs, and small food businesses. Since then, they've seen increased competition from mainstream supermarkets and large corporations that took advantage of the trend and stocked their shelves with organic options. This shift has led to much greenwashing and misinformation — the overuse of the term "local" and "sustainable" have left the words almost devoid of meaning. But when shoppers found they could buy "local," "natural" food more cheaply at the grocery store, market and CSA sales dropped off.

This decline has prompted local farmers to innovate and creatively try to reach new shoppers. For Irv & Shelly's Fresh Picks, a delivery service specializing in local food, the strategy has always been to focus on the next group of consumers who are ready to engage with the local food movement. A lot of times this switch is a matter of education and communicating the economic and environmental benefits of supporting local farms. As Irv explained, it's a matter of where you want your dollar to go. When you buy directly from the farmer or a small independent business, more of your food dollar is going to the farmer who puts in all the hard work so that you can enjoy your sweet corn and heirloom tomatoes during peak-season and apples and winter squash this time of year.


Since 2002, Jackie Gennett of Bushel & Peck's has worked to diversify her farm business, both as a way to support her farm and reach more shoppers with her products. She's developed a line of top-quality, value-added products like jams, hot sauces, and pickles — which you'll no doubt recognize for our market! She sells her handmade preserved goods at farmers markets, an online Etsy shop, as well as at her brick-and-mortar restaurant and market in Beloit, WI. Jackie's business illustrates the power of a small business in supporting its local food system. In 2018, her purchases from local farms amounted to about half a million dollars — dollars that go directly to local growers and support the Midwest food economy.

Chris Covelli of Tomato Mountain Farm has streamlined his production, perfecting his organic tomatoes and tomato products like salsas and sauces, along with a handful of other vegetables (people rave about the winter spinach!). He focuses on a few crops grown with maximum flavor and care, and then supplements his CSA box with additional produce from partner farms. This model not only supports other Midwest farms, but also helps attract new customers and make his CSA program more sustainable and profitable in the long-run.

Cliff McConville of All Grass Farms discussed the value that his on-farm store has brought his business. Located in Dundee, IL, the store is open year-round and offers dairy, eggs, meat, grains, herbs, and seasonal produce. Bringing people out to the farm to shop and take a tour has helped him make face-to-face connections with his customers — something you can't get at the grocery store or via food delivery. These direct interactions have helped him grow his business and market local, sustainable food to new customers and visitors.

Still, each of the panelists noted the challenging reality that too many people are both accustomed to extremely cheap food prices and increasingly obsessed with convenience. Small farmers can't afford to match these prices — and they do their best to literally "meet consumers where they are" by traveling to farmers markets, delivering CSAs, and taking online orders. But it's hard to compete against the massive scale and marketing budgets of large corporations.

Everyone spoke to a need for better consumer education — about what's in our food as well as the environmental and economic impacts of supporting small farms. Farmers markets like Green City Market have a role to play when it comes to the education piece. That's the very reason we host this dinner series with Angelic Organics Learning Center. It's also why we offer market programs like Chef Demos, Club Sprouts, and field trips as well as Edible Education in local schools — all as a means of communicating the importance of supporting local family farms and understanding seasonality in the Midwest.

Attendees left the dinner with a call to action...or two: pledge to shop at least once per week from your local farmers market, co-op, or grocer specializing in local products — even during winter! Sign up for a CSA to take your support for local food to the next level. And seek out restaurants like Uncommon Ground where owners Helen and Michael Cameron have made local sourcing is truly the norm, both because it supports family farmers and means healthier, more flavorful food for customers.


This Come to the Table Dinner Series is a collaboration between Green City Market and Angelic Organics Learning Center, and brings together farmers, chefs, and good food advocates for dinner and discussion at Chicago restaurants committed to sourcing locally. It's a great way to keep the conversation about local food and farmers going during the winter months. Our next dinner takes place at Arbor on March 5 and is sold out. Stay tuned to our website for more updates on Green City Market's education programs and events.