Posted Mar 04, 2020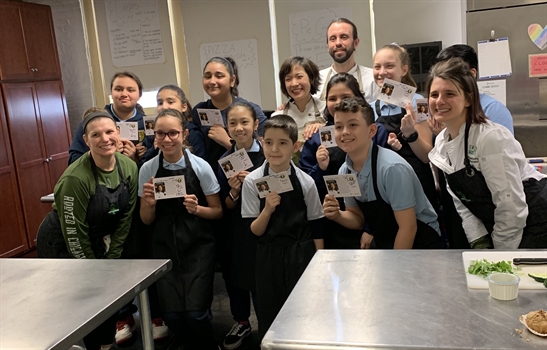 Green City Market's Edible Education team is in the classroom Monday through Friday, all school year long, teaching Chicago's kids how to shop, cook, and eat sustainably — James Beard-award winning celebrity chefs, however, don't usually make an appearance. That is until the Chicago Chef Council officially joined the food activism scene in February of 2020 — with a keen eye on school nutrition.
Chefs Beverly Kim and Johnny Clark of Parachute and Wherewithall visited GCM's Edible Education class at Carl Von Linne Elementary this week for the CPS Chef Council's first engagement of the year. Kim developed a nutritious (kid-friendly!) bulgogi, brown rice, and pickled cucumber dish specifically with students in mind. She introduced the inspiration behind the dish by speaking to the students about her Korean background and how kimchi and the fermentation process inspired her quick-pickle style cucumber.

Alongside GCM's Chef Educator Lisa Kalabokis, who also serves on the CPS Chef Counil, and Sous Chef Educator Kristina Navarro, Kim and Clark helped instruct students in GCM's Edible Education class through the making of the pickled cucumbers. Kim signed recipe cards so students could go home and make the dish again all by themselves and provided her recipe to the CPS cafeteria staff so the whole school and all 300,000 CPS students could enjoy it as well.