Posted Mar 13, 2019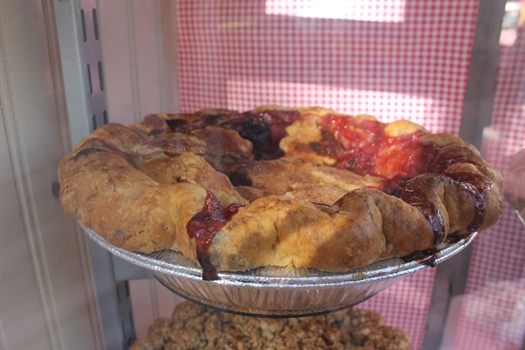 Pie might just be the answer to just about everything we've been looking for in life. When you need to slow down, take a moment to relax and reflect, Paula Haney, owner of Hoosier Mama Pie thinks you should snuggle up to a slice of pie.
"Aside from being yummy, a slice of pie is not a food you can really eat in a rush. You can't eat it while you're driving. You have to sit down and stop for a moment-maybe with a friend or your family-maybe with a book. Folks often have an emotional response to pie. Maybe their grandmother made pie for them or maybe they made pie with their mother," said Haney.
Pie is also an especially nostalgic dessert that has evoked so many emotions songs have been written about it. Whether you are an apple pie, cherry pie, or good ol' pumpkin pie fan – one bite of the pastry and the memories will come flooding back. "In my house growing up, it was the go to dessert for any special occasion and I have a lot of great memories around it. I also think it feels to good to be connected to the seasons whether we are conscious of it or not. That first slice of rhubarb pie in the Spring is so full of hope and anticipation. Apple pie in the fall just feels right," said Haney.
It is that love for all things pie that transformed Hanney from a pastry chef to an entrepreneur. "We started Hoosier Mama Pie Company working out of Kitchen CHICAGO, then joined Green City Market in 2006 and it was a great decision. The GCM customers were really receptive to what we were doing. They shared stories about their favorite pies and helped us figure out really what to offer."
In fact, Green City Market customers are the reason we get to nosh on those perfectly perfect six-inch pies. Market goers said they couldn't finish a full size pie, so whala - the six inch pie was born. Green City Market provided the perfect opportunity for Hoosier Mama to try out their local, seasonal baking model and to connect with the farmers and ingredients. Haney credits Green City Market customers for helping them create their first shop, and now that shop is celebrating its 10 year anniversary.
Market goers, diners, and pie lovers have gobbled up over a million pies filled with Ellis Family Farm granny smith apples, along with delicious ingredients from countless Green City Market farmers including Mick Klug Farms, Green Acres,Three Sisters, Nichols, Quality Organics, Smits.
As for what pie is most popular with Hoosier Mama fans? "Apple is the winner over the course of the year since apples store and travel well we make apple pies all year long.The most popular pie depends on what time of year it is.The pie year starts off in May with rhubarb and rhubarb fans are very enthusiastic. Cherry pie fans seem to be the most impatient waiting for their season in late July through early August. Still our various mixed berry pies are probably our most popular market pies. Of course at the pie shops Chocolate Cream and Chocolate Chess are always strong contenders because... chocolate,"said Haney.
If you've been to the Chef BBQ, you've no doubt indulged in the amazing build your own pie kitchen that Hoosier Mama puts together. As far as the most unique combination that the Hoosier Mama staffers have come up with? The Chicago Sunrise, which is a Malort & Grapefruit custard developed by our Chicago shop manager, Ursula Siker. But for Haney, Rhubarb is her favorite. "I love the balance of sweet and tart. I love the silkiness of it. I love that it is such an unexpected pie ingredient. It looks like red celery! And it's also great that it is the first thing we get in the spring. The old country nickname for rhubarb is "pie plant." A pie makers got to love that." We agree. The secret to a perfect pie? A flaky crust and great ingredients. Sounds like a perfect recipe everytime.
And we had to ask, where did the name Hoosier Mama come from. Haney tells us she and her husband are both from Indiana and as a private joke years ago they said lets open a pie shop someday and call it Hoosier Mama. Look at them now! If you want to celebrate Hoosier Mama's 10th anniversary, stop by their Ukrainian Village Shop March 23rd & 24th. Or if you want a slice of pie or a whole pie on Pi Day, you can pick one up at either of their locations.