Posted Aug 19, 2022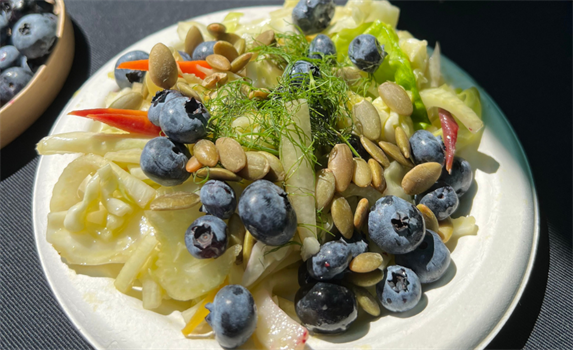 On August 17, Jeannine Wise from Good Food is Good Medicine joined us for a culinary demo at GCM Lincoln Park. Jeannine demoed a recipe for Cabbage, Fennel, Carrot and Arugula Slaw/Salad with Citrus-Basil Dressing. Find the full recipe below.
Ingredients
For salad:
2 c cabbage, julienne

1 c fennel bulb, juliennne

1/2 c carrot, julienne

2 c arugula

Picked fennel fronds, for garnish

Pepitas, roasted and salted for garnish
For dressing:*
1 tablespoon freshly squeezed orange juice

1 tablespoon freshly squeezed lime juice

2 tablespoons freshly squeezed lemon juice

1 tablespoon agave nectar

1 teaspoon chopped fresh basil

3 cloves garlic, minced

9 tablespoons extra-virgin olive oil

Salt, to taste
instructions
For dressing:*
In a blender, make the dressing by combining the orange juice, lime juice, lemon juice, agave nectar, basil, garlic and a 1/2 teaspoon salt. Blend while slowly pouring in the olive oil.*
For salad:
Thoroughly mix julienne cabbage, fennel and carrots in a large mixing bowl. Pour in half the dressing and toss to coat. Taste to determine if you like the amount of dressing- add more to your preference.
Next, softly fold in the arugula until just coated with dressing, and adjust for salt.
Garnish with pepitas and fennel fronds.
Serve on salad plates or in small bowls.
*Please note the Citrus-Basil dressing is directly borrowed with love and respect from Bryant Terry's wonderful book "Vegan Soul Kitchen: Fresh, Healthy and Creative African-American Cuisine" from page 65 (Chilled Citrus-Broccoli Salad).