Posted Feb 27, 2019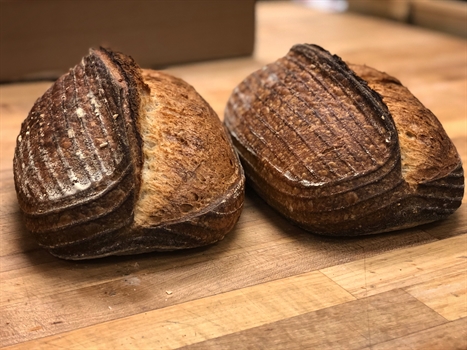 For years bread has gotten a bad wrap. We mean that both literally and figuratively. But times they are a changin and according to the New Yorker Bread is Back Baby! In fact, whole grains are surging in popularity — especially ancient grains, like quinoa, amaranth, farro, and spelt, which were eaten on a daily basis by our ancestors.
Imagine a food that can help reduce stroke, diabetes, heart disease, lower the risk of some cancers, and even help with weight management. Now imagine yourself eating a delicious piece of whole grain bread, or noshing on a bowl of oatmeal even snacking on whole kernel popcorn. You feel healthier already don't you? We're sure you are already including a many grains in your diet - but are they the right grains?
According to the Whole Grain Council, a grain is considered to be a whole grain as long as all three original parts, the bran, germ, and endosperm are still present in the same proportions as when the grain was growing in the fields. Whole Grains are a great source of macro and micro nutrients, fiber, potassium, magnesium and are loaded with all sorts of good vitamins and minerals.
"Sourcing grain and stone ground flour from local producers ensures that the consumer is receiving the full nutritional benefits, flavor, freshness, and satisfaction. The types and varieties of grain available in our region are exciting and fun to work with, and can really jumpstart creativity in the kitchen," said Shulamis Rouzaud, Founder of Chicago Bread Club.
You can find amazing whole grains at many of our Green City Market Vendors at Saturday's market, including a variety of whole grains and flours from Quality Organics, light and crispy bread and pastries at pHlour, yummy baguettes and oatmeal from Bennison's, and French pastries from Verzenay. Don't forget to pick up some of Nichols Farms popcorn this weekend to go with your weekend movie night.
If you want to learn more about our regional grain economy the Chicago Bread Club and the Artisan Grain Collaborative are hosting a Stepping Into The Grain Chain panel discussion. Our regional grain economy is kind of invisible, and that can leave us wondering how we can contribute to the changes afoot. Amy Halloran, author, and authority on regional grains will be moderating the panel. She will lead researcher and plant breeder Julie Dawson, baker Bobby Wongkamalasai, extension educator Bill Davison, miller Jill Cummings, and grain farmer John Wepking in a roundtable discussion on the connections within and priorities for our emerging grain economy. Attendees will enjoy bread from Phlour, curated cheeses, jams, and nuts, artisanal kombucha crafted by Pain de Chicago, and Alarmist Brewing beer. Wherever you are in the grain chain, let's get together, snack heartily and learn how to support the great grain efforts that are happening.