Posted Mar 21, 2019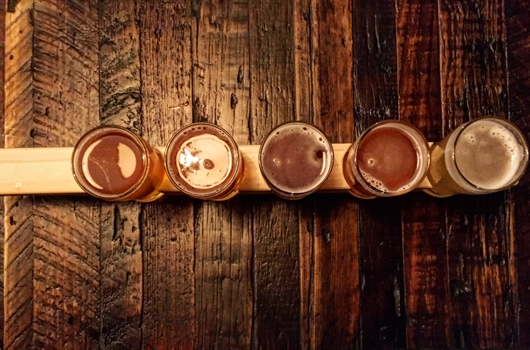 Partner Spotlight on Forbidden Root
*Contest Alert: Forbidden Root is currently nominated for a spot on USA Today's 10 Best Brewpubs in the country. You can vote for them here! Voting closes on Monday, March 25, 2019.*
At Green City Market, we're all about celebrating food and drink that highlight produce and plant-based ingredients in new creative ways. We love partnering with Chicago restaurants and breweries that prioritize local sourcing and let the seasons drive their menus. This week, we're excited to spotlight Forbidden Root Restaurant & Brewery, a longtime Green City Market supporter and Chef BBQ participant.
As Chicago's first botanic brewery, Forbidden Root lets herbs, fruits, spices, and florals inspire their brewing process. On a behind-the-scenes tour of the brewery, located in an old theater building on Chicago Ave., you'll find cupboards and shelves filled with natural essences, tinctures, and flavors stored in bottles of all shapes and sizes. "We like to think of ourselves as beer 'mad scientists' – we like to experiment, we're not trying to conform to a specific style necessarily," explained Tori Mason, Forbidden Root's Marketing Manager. Forbidden Root was founded in 2014 by Robert Finkel, and later opened its brewpub's doors in 2016.
The menu at Forbidden Root, crafted by Executive Chef Dan Sherron, complements this philosophy. Chef Dan incorporates ingredients from local farms like Nichols, Mick Klug Farm, and Green Acres – often venturing to the market for inspiration. Drawing from his experiences growing up on a farm near Nashville, he lets the seasons drive the menu, changing things up as much as possible to make use of new ingredients and keep things exciting for guests. Some of his favorite dishes on the menu right now are the Duck & Dumplings and the Beet Cake. Lots of dishes also utilize Forbidden Root beers, such as the WPA Beer Cheese, blending the brewery and kitchen.
Our favorite part? In addition to sourcing from Green City Market farmers, Forbidden Root donates all of its merchandise proceeds to Green City Market.Every shirt, growler, or bottle opener purchased at the brewery directly benefits Green City Market's farmer support, edible education, and food access programs. Last year, Forbidden Root was able to donate over $5,000, which goes a long way in helping Green City Market promote local food and farmers. We are incredibly grateful for their ongoing partnership.
We highly recommend a visit to Forbidden Root's restaurant location in West Town. The funky, inviting atmosphere goes hand-in-hand with the creative vision of their food and drink. It's the perfect spot for after-work snacks and plant-forward brews, a cozy weekend brunch, and elevated twists on brewpub fare. Our staff also recommends checking out their monthly Beer Dinners, which offer a seasonally-inspired multi-course meal and beer pairings centered around a specific theme (this month's is Portuegese-inspired).
You can also find their beers throughout Chicago. Our staff is a big fan of the Wildflower Pale Ale and the Strawberry Basil Hefeweizen – a refreshing beer that sure to get you excited for the spring season.
Next time you stop in, be sure to pick out a t-shirt or merch item of your choice! You'll not only be supporting a restaurant that sources from market farmers, you'll also directly support Green City Market mission to strengthen the local food economy in the midwest.