Posted Nov 07, 2018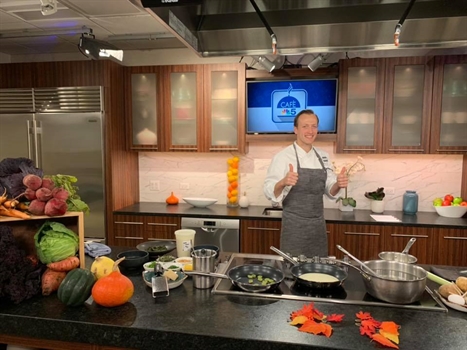 This week, WGN TV and NBC 5 Chicago hosted A (Mostly) Veggie Affair chefs in their studio kitchens to demonstrate their dishes for our fall fundraiser on Thursday, November 8th. Each chef prepared a dish using seasonal produce from local Green City Market farmers. Check out their segments for a preview of what to expect at the event:
On Sunday, Cafe Robey's Chef Kevin McAllister showed us how to make Pastrami Beet Bites on WGN TV. Take a look at how he creates this vegetarian dish with the sweet beet harvest from our farmers. Flavored with pastrami spices, you'll forget that it doesn't have meat. Click here to view the clip and recipe.
On Monday, Chef Jeff Vucko from Travelle at The Langham showed NBC 5 Chicago viewers the smoke and mirrors behind his Nichol's Farm Applewood Smoked Potato Gnocchi. Chef finishes the dish with a leek cream sauce. Watch him create the dish here.
On Tuesday, WGN TV Lunchbreak viewers caught a glimpse of the complex market-inspired mole made by Chef Keith Potter from Cindy's Rooftop for his Blue Corn Enchiladas. The dish includes homemade tortillas. Click here to view the clip and recipe.
Try all of these dishes, including 25+ other (mostly) veggie dishes and drinks from top Chicago restaurants, breweries and distilleries this Thursday evening at Lakeshore Beverage. Plus, we will have exciting raffle prizes, such as Chef BBQ tickets, hotel night stays and restaurant gift cards. All admission ticket and raffle proceeds benefit Green City Market's year-round farmers markets, edible education programs and food access intiatives.