Posted Jun 01, 2020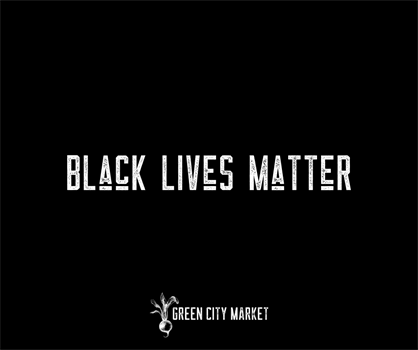 Here at Green City Market, we're often talking about sustainably grown food, how to purchase it locally, how to prepare it, and how to ensure everyone ⁠— regardless of their income or zip code ⁠— has access to it.
Today however, we must peacefully and explicitly speak out against the racism, violence, and injustice faced by George Floyd and so many others killed before him.
We don't have all of the answers and we don't know exactly the right thing to say ⁠— but we cannot be silent.

Green City Market stands in solidarity with our fellow Chicagoans and Americans peacefully rising up to insist on justice and an end to violence against people of color.
We at Green City Market know that we all have a part to play in ensuring progress is made and that black lives are safe and valued at our farmers markets, in our classrooms and programs, in our city, and in our country.

Green City Market is proud to be a part of a robust network of nonprofits in Chicago advocating for a wide variety of causes, including sustainability, health, education, justice, and much, much more.

As you have so generously supported our mission, today, we invite you to learn more about how you can get involved with some of the many local organizations that are directly effecting change in our community.

We are proud that these organizations exist in Chicago, and we know that they cannot continue this fight alone.

Black Lives Matter Chicago
Chicago Community Bond Fund
Chicago Community Trust
Chicago Justice Project
Chicago Urban League
Heartland Alliance

In solidarity,

Green City Market