Posted Dec 10, 2019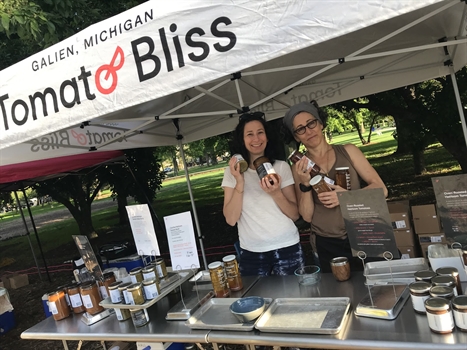 Tomato Bliss is just one of the 61 family farms and local businesses that Green City Market supports, helping local Midwest farmers to grow sustainably and earn a living wage. Donate today to grow support for farmers like Marie and Sasha and ensure that healthy, local, sustainable food is available for generations to come.
---
Marie Krane has been making roasted heirloom tomatoes for twenty years. This year, in a twist of fate and with some entrepreneurial gusto, her signature tomato creations hit grocery store shelves and Green City Market's Lincoln Park and indoor markets.
Read on for Tomato Bliss' scrappy, artsy, inspiring path to the market and how Green City Market donors support small independent farms to ensure local Midwest farmers can continue to grow sustainably and earn a living wage. Donate today to grow support for businesses like Tomato Bliss and ensure that healthy, local, sustainable food is available for generations to come.
Now's the best time to give; your impact will be tripled! Between now and December 31, all contributions will be matched up to $40,000 thanks to generous gifts from the Alvin H. Baum Family Fund and the Linville Family Foundation. Give today for a greener (and tastier) tomorrow and grow support for farmers like Tomato Bliss' Marie and Sasha.
What was your journey to becoming a GCM vendor?
"My business partner, Sasha Earl, and I have worked together since 2001 as community activist artists. In 2010, we put out 500 heirloom tomato seedlings in an art space and invited the community to trade with us—kind of like a holiday cookie exchange. The heirloom tomato seedling project quickly turned into growing heirloom tomatoes in buckets on the south side of Chicago, and then all over Chicago. We did a rooftop heirloom tomato garden on top of Hyde Park Art Center. By 2014, we were distributing 5,000 heirloom tomato seedlings around Chicago, and I started to wonder why I couldn't find heirloom tomatoes in the markets other than in August. Even then, it was not very easy to find them. So I bought a farm in Galien, Michigan about 75 miles outside of Chicago. In 2016, I set out to experiment, 'Could I grow heirloom tomatoes as a farmer?' with 900 plants. It was my husband and me, growing the plants, and I went and I got certified and licensed as a whole-sale food processor and started making our signature products, the roasted heirloom tomatoes, which I had made for twenty years with my surplus tomatoes.
Heirloom seeds are at risk of extinction because they've been hybridized so that they can be easy to transport. There's about 25 seeds in commercial tomato production, and 90% of worldwide commercial tomatoes come from only 25 seeds right now. There used to be 15,000 heirloom tomato seeds, and now we're down to 10,000. Until Tomato Bliss, there were zero heirloom tomato seeds in commercial products in the grocery store.
Tomato Bliss came out of the idea that heirloom tomatoes are really easy to grow, good for the environment to grow because they're open-pollinated seeds (which means that they come back every year), so for farmers it's a great crop because you can save your own seeds. So we wondered, 'What are the products we could make that really take advantage of the attributes of heirloom tomatoes?' If we lose heirloom tomatoes, we will lose the flavor of tomatoes.
So we started making these products and launched the business in 2018. As I filled out the GCM vendor application, I realized that our principles of sustainability, good stewardship of land, and hyper-local business —that those principles were directly connected to GCM's principles."
Out of all the farmer's markets in and around the Chicago area, why Green City Market?
"If Tomato Bliss had a chance at making it—which, Green City Market has proven that we had way more than a chance—then GCM had the customers we hoped to connect with. The community of farmers at GCM really jives with Tomato Bliss' principles in independent farming. As a business, we grow most of the heirloom tomatoes ourselves, but we also partner with three other independent, ecologically-minded farmers for surplus tomatoes. Tomato Bliss supports independent farmers who want to grow heirloom tomatoes, but it may be too risky a crop for them because they're so easy to grow, you can wind up with a surplus, and they don't keep. So we contract to purchase surplus heirlooms from independent, ecologically-minded farmers.
Part of our mission is to support independent, ecologically-minded farmers, and lo and behold, GCM is a community that supports independent, ecologically-minded farmers and makers. GCM is a perfect fit for our brand, our company, and what we're aiming to do. We're a mission-driven company, and GCM is a mission-driven market, and our missions are very similar."
What do you think is the most important thing people should know about shopping local or shopping (and eating) sustainably?
"It's good for health, good for the earth, and good for farmers. That's the most important thing about local, sustainable food. Midwest soil (southwest Michigan soil specifically) and climate produces exceptional food; it's the nation's fruit belt! At the same time, a lot of the earth has been ruined by monoculture, large-scale farming. By supporting, southwest Michigan (i.e. local) and sustainably-grown produce, your purchasing power supports the regeneration of soil. Your dollar can be used to regenerate soil, ultimately. That's the promise of Tomato Bliss."
You've mentioned GCM's mission aligns with that of Tomato Bliss, can you share more about what that means to you?
"There's a lot out there on why buy local and why buy hyper-local, and at the same time, I think where GCM does an exceptional job is the application process. As a vendor, I had to prove where everything comes from in our product. The word 'local' is not regulated, and the word 'sustainable' is not regulated. Those are words that are thrown about. What GCM does is guarantee that what you're buying is sustainably and locally grown. Green City Market is authentically principled stuff. GCM is an authentically principled brand for true, local, and sustainably grown food."
*Interview has been edited for brevity and clarity.