Posted Feb 27, 2019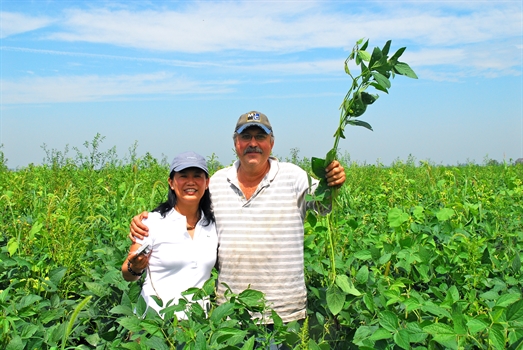 Taking a walk can sometimes be life changing. When Jenny Yang took a stroll through the Edgewater neighborhood with her young daughter she had no idea what stepping into Phoenix Bean Tofu would mean. It was there that she was transported back to her native Taiwan.
"Seeing, smelling, and tasting their products made me think of all the great tofu dishes I grew up with," said Jenny. "Then one day, the owner was thinking of retiring and closing shop. I lamented the loss of such a wonderful artisanal Asian product. Where would we go to find tofu?" And that's when Jenny decided to leave the corporate financial world behind and acquire Phoenix Bean.
Since taking over operations in 2006 Jenny has been committed to crafting the freshest and tastiest sustainable soy products you can buy. And that means starting in the fields. Phoenix Bean Tofu works with three soybean farmers in central and southern Illinois. "We have direct relationships with our farmers and personally work with them to ensure they are growing and selecting the perfect soybean for making our tofu. All of our soybeans are organically grown and non-GMO certified," said Jenny.
Phoenix Bean products are produced each day at the same local Edgewater factory, handcrafted in small batches by a team of expert tofu makers. After grinding and boiling the soybeans, they deftly curdle the soymilk to craft the delicious tofu.
"The key to our products is our commitment to freshness and high quality. Our staff process whole soybeans each morning to produce soy milk that is hand curdled and formed into different styles of soybean curd, commonly called tofu. We make and deliver our tofu fresh every day. We do not use preservatives or artificial additives to keep our tofu fresh."
And it is that amazing taste that Jenny wanted people to taste. To do that she took her show on the road to the farmers markets and today Phoenix Bean is a mainstay at Green City Market year round.
"Our tofu has always been a staple for many Asian and vegetarian home cooks. Once we started going to more local farmers markets like Green City, more local chefs started noticing us when they were there picking up other local products for their restaurants," said Jenny. Some of those top chefs are also Green City Market loyalist including Chef Rick Bayless of Frontera Grill and Chef Stephanie Izard of Girl & The Goat amongst dozens of others. Today, Phoenix Bean and Jenny's Tofu products can be found in over 150 stores located in 9 states, and a dozen weekly winter and summer farmers markets around the Chicago area.
We asked Jenny how most people reacted when they first tried her tofu. "People are always surprised that it is 100% tofu. Many never thought tofu could be as shaped like a noodle so are surprised by the firm texture," she said.
"We want our products' flavor and taste to speak for themselves. Our tofu noodles have a hearty texture that works well as a replacement for flour-based noodles. It is gluten and cholesterol free since it contains no wheat and is not an animal protein. Yet for the same caloric intake, it actually has more protein than a serving of meat," said Jenny.
We asked Jenny to share some of her favorite recipes, one adapted from her Grandma Yang, Tofu Noodle salad and another she created with Amanda Puck and Mariano's Miso & Sake Mussels with Tofu Noodles . The tofu noodles soak up the terrific flavor of the pan juices and make a great hearty one-pot meal.
And there is more to come from Phoenix Bean and Jenny's Tofu including a new retail shop and cafe opening in Edgewater. Jenny says it will be a tofu showcase where customers will come in, see tofu being made, learn about tofu and order various fresh and cooked tofu products. Of course, you can always visit Phoenix Bean at Green City Market.