Posted Dec 01, 2020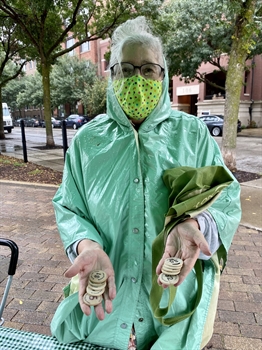 "The ability to get to the farmers market and buy fresh — and really fresh — food is just fabulous," shares Sue, a GCM shopper who uses our Link matching program, where we welcome and match SNAP benefits (a.k.a. Link or EBT) dollar-for-dollar up to $15 per customer, doubling the purchasing power of those in our community who need it most.
Due to the effects of the coronavirus pandemic, more than 54 million people may experience food insecurity in 2020. "People who never thought they'd experience food insecurity are now seeking food assistance," says Luis Guardia, president of the Food Research & Action Center.
"It's fabulous," Sue remarks on her experience with GCM's Link matching program. "It helps with my budget and my limited funds. It allows me the ability to buy fresh fruit, veggies, and some bakery items that I normally probably wouldn't be able to afford."
In 2019, GCM served over 900 customers across 55 different zip codes in Chicago with our Link double value program. In 2020, we're facing a challenge like no other in our fight to provide Chicagoans facing food insecurity with nutritious, local foods.
While the USDA has yet to authorize farmers markets to process Link online, GCM got creative. With the end of our outdoor farmers market season in sight, we recently launched a new way for customers to participate in GCM's Link matching program and pre-order online so they can access safe and convenient curbside pick-up all winter long.
Your support is urgently needed to ensure Chicagoans like Sue can continue to safely access highly nutritious, locally-grown food from Green City Market's 57 local farmers and vendors. $15 provides essential funds for a Chicagoan facing food insecurity to take advantage of Green City Market's Link match. Please, give a tax-deductible donation to get healthy food into the homes of families that need it most.