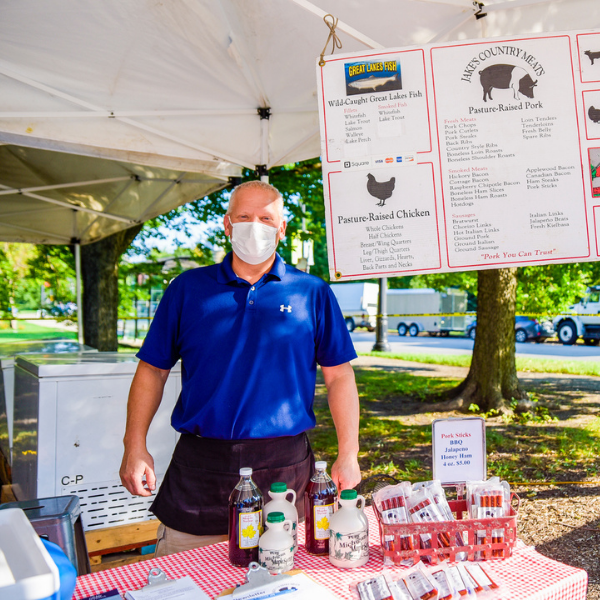 Contact Info
Lou Ann and Nate Robinson
55721 Decatur Rd
Cassopolis, MI 49031
269-445-3020
Bio
The Robinson family has been farming for seven generations in Cass County, MI. Each generation vows to preserve the land for the next, and commits to sustainability year after year. They employ environmentally-sound management practices for the fields and forest that help build the foundation for their sustainable farm.
They specialize in raising heritage breed animals outside — on pasture and in barns with straw and hay for bedding. This allows the animals to enjoy grazing on grasses and alfalfa, or foraging in the woods on berries and nuts. Additionally, Jake's grinds their farm-grown, GMO-free, corn and soybeans with a closely monitored diet of vitamins and minerals for their animals.
Currently pigs (Berkshire and Duroc), chickens (Cornish Cross), turkeys (Broad-breasted Whites), goat (Boer), and 100% grass-fed cattle (Scottish Highland) graze the farm. Their animal husbandry programs and the level of care provided to their animals result in a well-marbled meat that is tender and full-flavored.
In their effort to utilize as much of the animal as possible while creating a bridge to mend the gap between producers and consumers, Jake's offers a wide range of cuts and products. Full product lines of pork (fresh meats, smoked meats, sausages, etc.), chicken (whole, halves, quarters, etc.), beef (steaks, roasts, ground, etc.), turkeys (whole birds in the Fall), Great Lakes Fish (flash frozen fillets, smoked fish from Massey Fish Company in St. Ignace, MI), and Michigan Maple Syrup (pints, quarts, gallons) are available.
WHOLESALING
Please email to place a wholesale order.
---
Specialties
pork, chicken, beef, fish
---
Participating Markets
Lincoln Park
---
Certifications
American Grassfed Association
Animal Welfare Approved
---
Nutrition Assistance Programs
SNAP
---