Chef BBQ 2021
9
Sep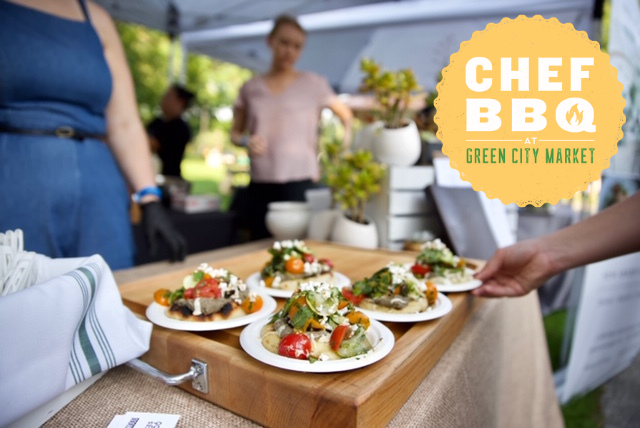 Event Details
Date
Thursday, Sep 9, 2021
Time
5:30pm–8:00pm
Location
1817 N Clark St
Chicago, IL 60614
see map
We're bringing BBQ back
Green City Market is bringing Chef BBQ back — one of Chicago's most anticipated food events of the year.
In a food festival unlike any other, Chicago's top restaurants, brewers, winemakers, and mixologists provide tasting portions of locally-inspired dishes and craft beverages highlighting ingredients from Green City Market's local, sustainable farmers. Tickets include all food and beverage available at the event; no need to purchase additional tickets once inside.
What's even more delicious? Your attendance benefits Green City Market's 501(c)(3) nonprofit mission to secure the future of food by deepening support for sustainable farmers, educating our community, and expanding access to locally-grown food.
Join us for year 20 of Chef BBQ and lift up your local food system. Get your tickets today.
The VIP Experience
Make your long-awaited return to Chef BBQ in style — VIP guests gain access to the event one hour early for exclusive face time with Chicago's top chefs and an opportunity to begin the tasting experience before general admission guests arrive. VIP guests also enjoy exclusive access to the VIP section, including premium seating, a private bar, trays for carrying food, and VIP-only restrooms.
Attending with a group? Reserve a VIP cabana with luxurious lounge seating under a shaded tent. One cabana hosts up to 8 guests. Learn more about the VIP experience and reserve your tickets today.
Participating restaurants + Beverage purveyors
August Hill Winery | avec + The Publican, by One Off Hospitality | Bang Bang Pie & Biscuits | Bell's Brewery | Big Delicious Planet | Big Jones | Bistronomic | BLVD Steakhouse | Candid Wines | Carnivale | Chikatana | Chilam Balam | Cira | City Water Hard Seltzer | Coda di Volpe | Cruz Blanca Brewery | Dablon Vineyards & Winery | Daisies | Eli's Cheesecake | Ella Elli | Fisk & Co. | Formento's | Found Restaurant | Frontera Grill | Gayle V's Best Ever Grilled Cheese | Gemini | Goose Island Beer Company | Goose Island Brewhouse | Half Past Seltzer | Hopewell Brewing Company | Intelligentsia Coffee | Jaleo by José Andrés | JK's Farmhouse Ciders | Kikwetu Coffee Company | Kilogram Tea | Kite String Cantina | KOVAL Distillery | L&M Parkside | Lillie's Q | Longman & Eagle | Luna Bay Booch | Lure Fishbar Chicago | Mercat a la Planxa | Milk Money Brewing | Momotaro Restaurant | Noble Fat | Off Color Brewing | Old Pueblo Cantina | Piece Pizzeria & Brewery | Prairie Grass Cafe | Pretty Cool Ice Cream | Recess | Revolution Brewing | River Roast | Rose Mary | Signature Plates | Smoque BBQ | Soul & Smoke | Swift & Sons | Table, Donkey and Stick | The Bakery at The Exchange | The Bazaar by José Andrés | The Bristol | Travelle at the Langham | Twilight Kitchen | Venteux | Verzenay | Vitani Spirits | Wherewithall | Wolf Point Distilling
+ many, many more